Strong, passionate and a lover of excellence are 3 terms that  define the stunning UI/UX designer Nelson Mojolaoluwa , a professional with roots in the NGD community; Mojo has participated in several challenges, capped cash prices from the community and nurtures budding designers.
He recently got contracted by a UK based Fintech firm. We have him below for the full scoop. Enjoy.
10 questions  with Nelson mojolaoluwa
1. Your love for the art, what ignited it?
My passion for the arts is immeasurable. From my early childhood days, I cherished a dedicated drawing book, which unfortunately got taken away by a mischievous bully. However, this incident only strengthened my belief that my love for art is inherent. Creating visuals brings me immense pleasure, and this innate connection has paved the way for my design journey. For me, it's not merely a job; rather, it feels like getting paid for doing what I cherish the most.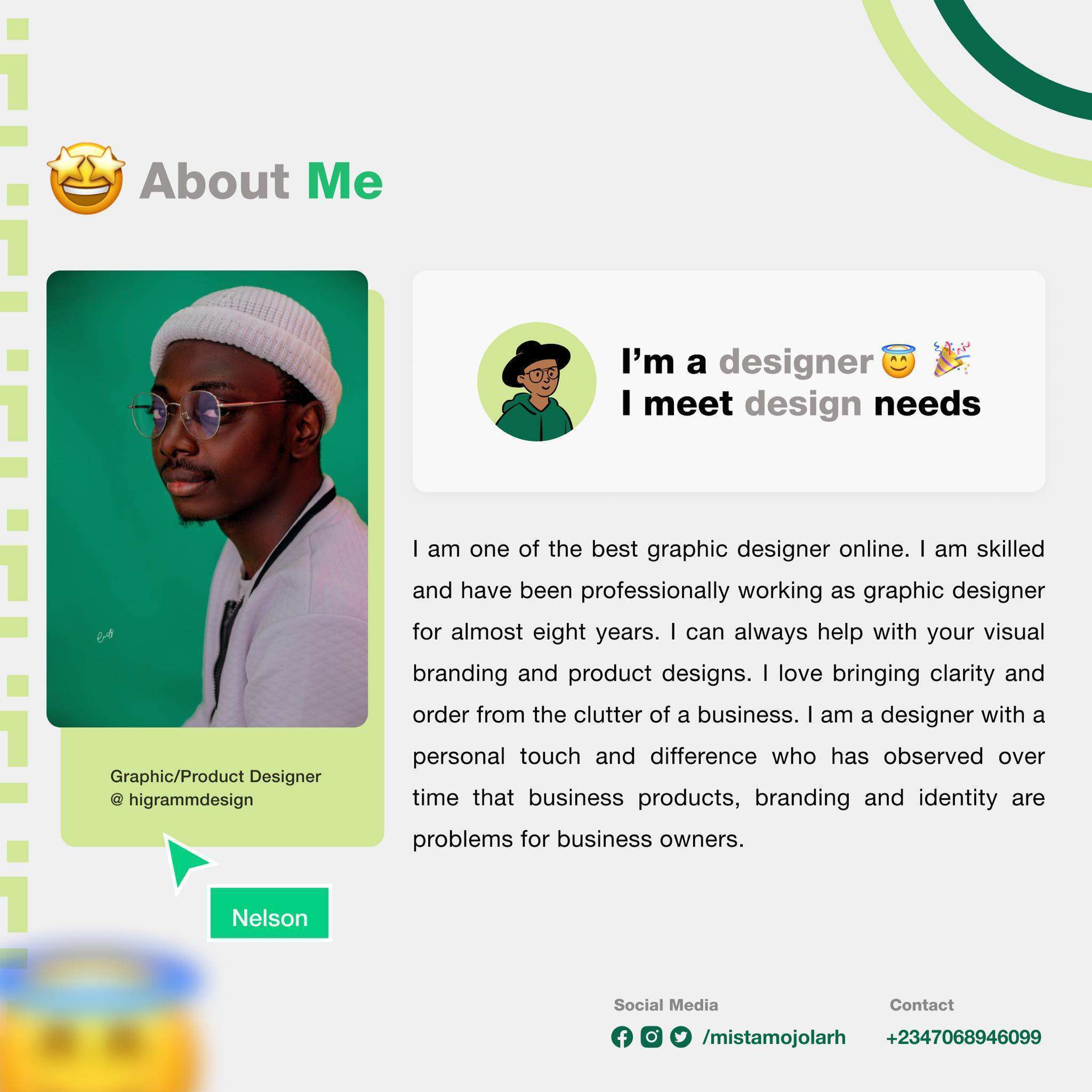 The cleanness, the clarity, the simplicity- Meet Moyo
2. Why UI/UX ?
Since 2015, I've officially been a part of the industry after completing my National Diploma Course, and back then, I relied on a television laptop – oh, the frustration of power outages causing the PC to shut down! It's an experience we can all relate to.For about four years, I focused on regular visual designs.
However, during this time, I came across someone discussing product design online, and it piqued my curiosity. I decided to take a trial, and boom! That's when my journey into product design began. I quickly realized that it offered a unique space to tackle more complex problems and approach them with intuition.Since making that decision, delving into the world of product design has been the best choice I've made so far. It has not only provided me with new challenges but also allowed me to explore my creativity and problem-solving abilities in ways that regular visual designs couldn't offer.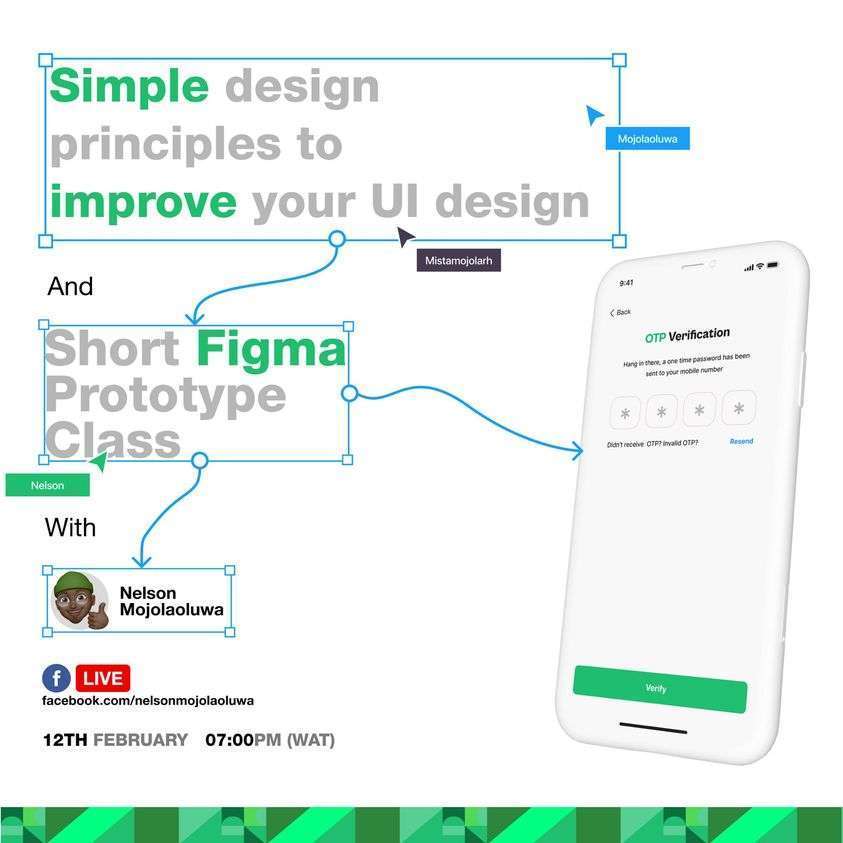 Prototyping tutorial taught by Mojo
3. What do you love about the digital age?
I share your enthusiasm for the digital age and all the incredible opportunities it brings. One of the things I love most about this era is the ability to solve complex problems in creative and innovative ways. The emergence of XR (Extended Reality) technology in various industries, such as fashion, engineering, health, carpentry, and more, is truly remarkable and something that would have been hard to imagine in the past.We are now living in a time where possibilities seem limitless, and opportunities to scale and grow abound.
The digital age has opened up new avenues for exploration, allowing us to push the boundaries of what we thought was possible. It's fascinating to witness how technology continues to shape and revolutionize industries across the board.Indeed, the only real limitation anyone could have in this age is the choice to be lazy. With such a vast array of tools, resources, and knowledge at our disposal, it's a perfect time to be proactive and take advantage of the digital landscape. Embracing this digital age and its potential for creativity and problem-solving is an incredible opportunity to make a positive impact and achieve meaningful accomplishments. Let's make the most of it!
4. How did you hear about NGD?
It's truly amazing how life-changing interests and opportunities can come to us unexpectedly. Several years ago, I stumbled upon a page that sparked my interest in the world of design, and from that moment, my journey took off.I'll never forget the excitement of starting my very first Movie Poster challenge, and to my delight, it caught Julie's attention.
That recognition and encouragement provided the motivation I needed to forge ahead on my design path. Participating in NGD Group (Naija Graphic Designers) events has been an invaluable experience for me.
Breaking boundaries – NGD/ Vbank collaborate to offer financial education to Nigerian Creatives
These events pushed me beyond my limits and encouraged me to explore and excel in various design niches, transforming me into a multi-disciplinary designer. The growth and exploration throughout this journey have shaped me into the talented designer I am today. I've learned that the best opportunities often arise unexpectedly, and embracing them has played a significant role in shaping my passion for design.
For anyone reading this, I want to encourage you to keep exploring, learning, and pushing yourself in your creative endeavors. The possibilities in the design world are vast, and you never know what exciting challenges and accomplishments lie ahead!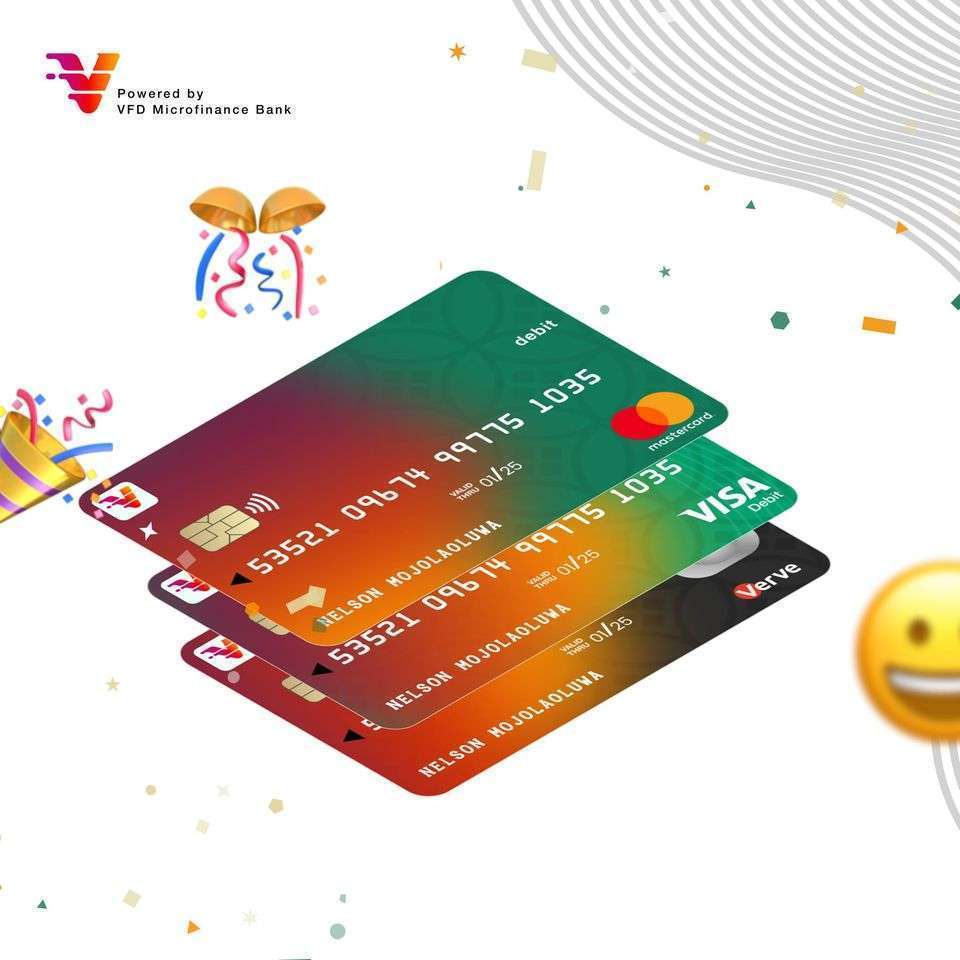 Mojo's entry for the Vbank Card Challenge
5. Your new job, how did it come about and what was your reaction?
At first, I can attribute landing this incredible opportunity to NGD Challenges. It was during one of these challenges that I submitted a UI deliverable in 2021, and much to my delight, it caught the attention of not just one, but two clients. This stroke of luck led me to secure my first two gigs that year, and I still actively work with one of those clients to this day.
The feeling of elation that washed over me served as a validation that hard work and conquering imposter syndrome are tangible milestones within the journey of a creative individual. It bolstered my belief that with dedication and a positive mindset, we can achieve remarkable success in our creative pursuits.
6. How would you compare working in Nigeria to working with a UK based firm?
I'd like to highlight a comparison that I believe could serve as a recommendation to Nigerian-based firms. Working with a UK firm has shown me the benefits of a flexible work environment, as long as you are efficient and reliable in meeting your tasks. The experience of remote work has allowed me to build confidence and capacity in multitasking while still meeting various deadlines.
In the UK firm, tasks are clearly spelled out, and the work culture is slightly different from what I've experienced in Nigeria. Unlike Nigeria, where too many deliverables are often required within short notice, the UK approach allows more time for creatives to think broadly and deliver their best work. This emphasis on time and creative space has proven to be beneficial.
I would like to recommend that Nigerian firms consider adopting industry-standard remuneration for creatives, especially during challenging times in the country. Fair compensation not only motivates creatives but also fosters a more productive and satisfied workforce.
Lastly, I want to mention the importance of teamwork. I've had the opportunity to work with amazing teams in Nigeria, as well as with teams from other regions. Regardless of the location, being organized as a team is crucial to achieving better results. Effective collaboration, communication, and mutual support can lead to outstanding outcomes in any creative endeavor.
7. Is an online presence necessary for  every designer?
I would gladly say "Yes" a million times if given the chance. In today's digital age, your audience extends far beyond your precise location. As a creative, it's crucial to be active online and not just present, but also to showcase your skills with a compelling personality.
https://blog.ngd.africa/social-media-content-for-graphic-designers/
This is what entices potential clients to seek you out and collaborate with you. Embracing the online realm allows you to reach a wider audience and opens doors to countless opportunities for your creative endeavors.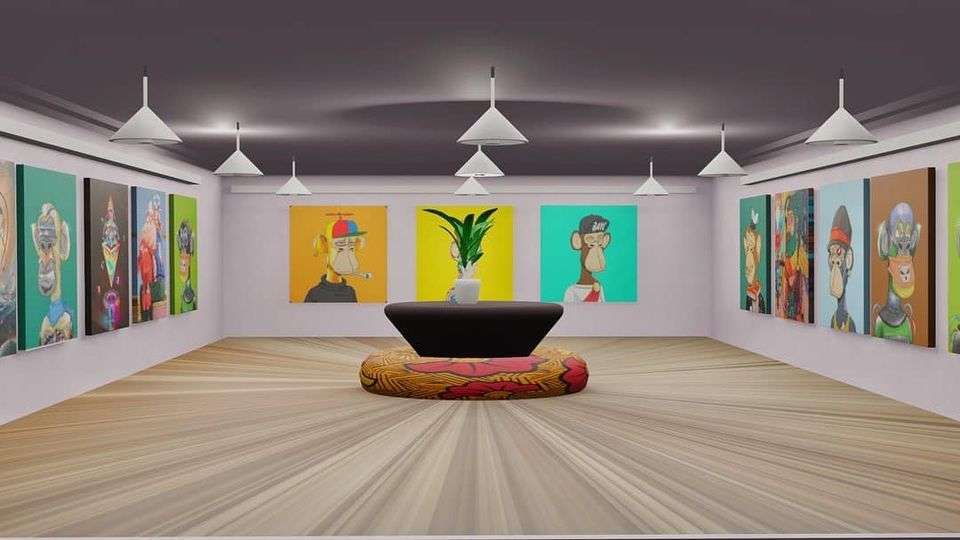 Virtual artworks from the meta enthusiast
8. Can we expect your entries in future participations.
Absolutely, without a doubt, I will always cherish the opportunity to be part of and actively participate in future events.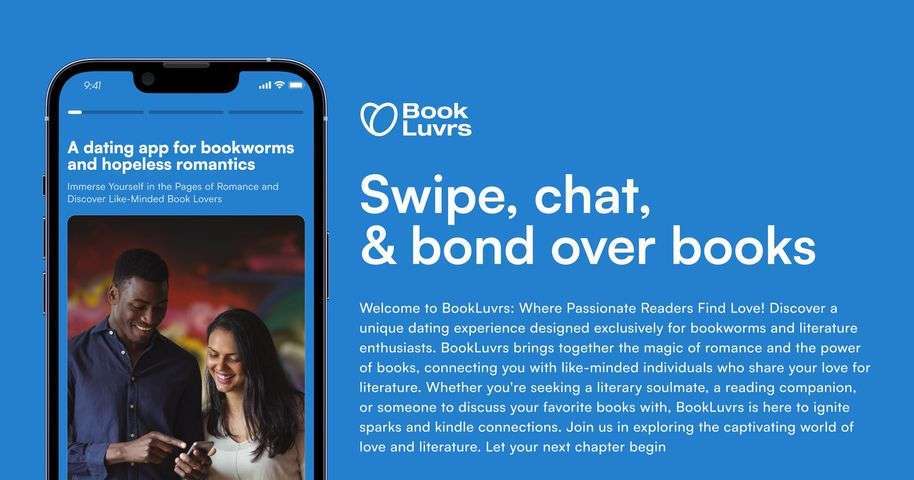 Mojo's 2023 bookluvrs entry for NGD'S Pro UI Challenge
9.  Do you have colleagues you admire in the community?
Certainly, I have quite a number of them. Some of the remarkable individuals who have left a positive impact on me include Mr. Tola Alabi, Julie Chiemerie, Mr. Omotola Busari, Emmanuel Nwogbo, Ayodele Michael, Ajala Victor, and many others whose names I can't recall at the moment. Each of them has contributed to my growth and inspired me in various ways.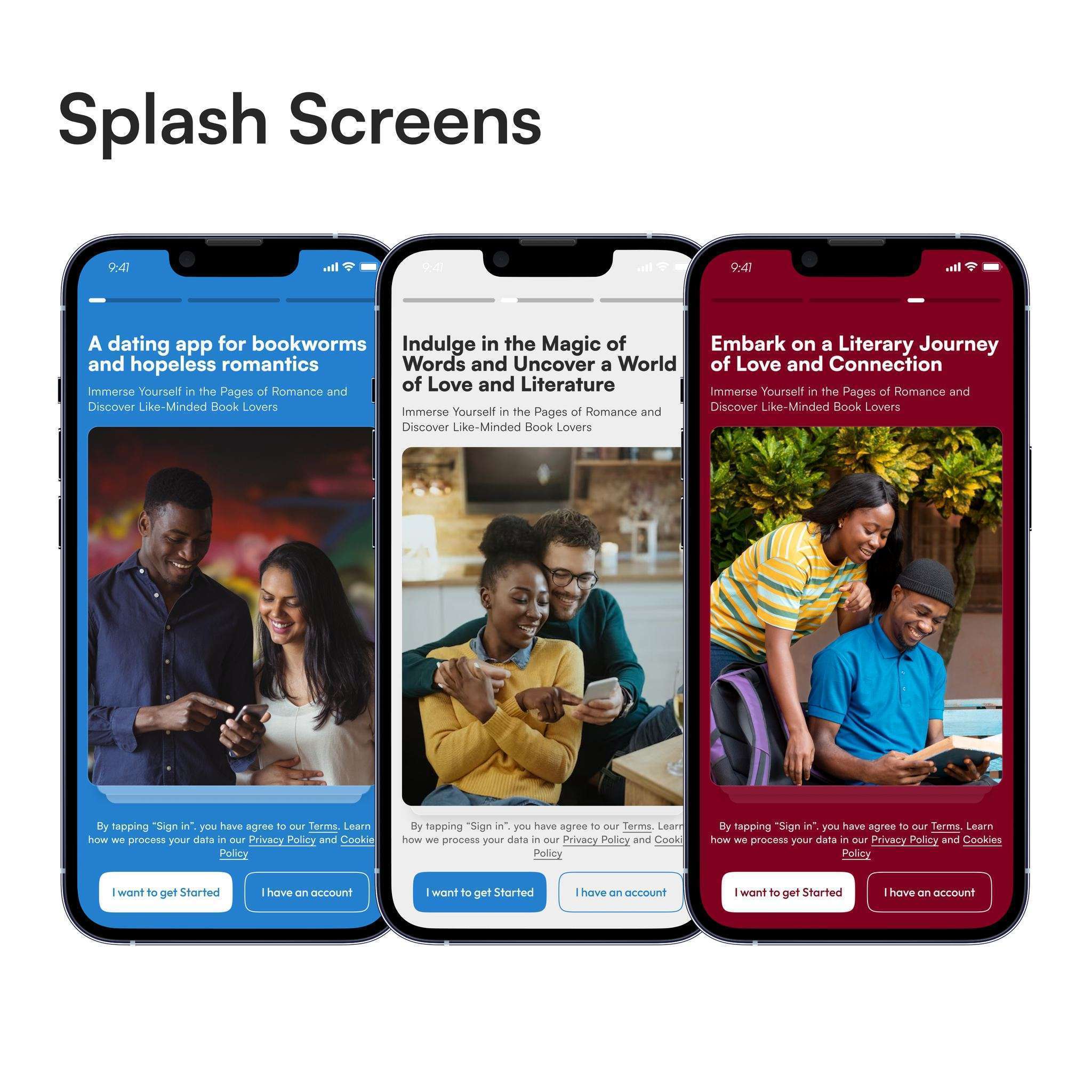 10. What's your biggest motivation currently?
My greatest motivation right now is to keep moving forward, regardless of any obstacles that come my way. I've realized that people don't want to hear excuses or explanations for why I can't show up consistently and stay committed to my growth.
Recently, I experienced a setback when I was robbed, and all my gadgets were taken away. While this event could have been enough to end a career, I refused to let it define me. With the help of God and my unwavering determination, I picked myself up and continued pushing even harder.
I firmly believe that great individuals don't make excuses; they focus on commanding results. I am grateful for the strength to persevere, and I'm committed to achieving my goals no matter the challenges that come my way.
Thanks for your support and encouragement!